15 August
I didn't thought that I would have much for you this week but when I was looking trough my chats I found several reports. A couple have asked about WW on other servers so I gathered those too. But let's start with something that made me laugh.
If you don't keep an eye on what you are doing traders have an annoying habit to end up somewhere else. Instead of taking a trip to a negative village this traders decided that a visit to the Natar WW on 0/0 would be a welcome change. It wasn't so far tough and they was home again after 4 hours. The troops in the negative village? Don't worry – they didn't starve.
I donated 30 golds to the account for this funny report 🙂
WW all servers
We start with International, only two taken so far. Ghetto will for sure take one and we will see if Bulgaria&Co can withstand the temptation to have one of their own even if they said earlier that they would be to small to support one themselves.
In Russia we have a surprise – a lot of WWs is taken already! It's nine and Russian alliances  have trough all years always been among the latest to start on building WW. "You only need a couple of weeks to prepare a WW, so why take it earlier?" Maybe they are right, they have been fastest to 100 most of the qualification rounds. LTU have built around WW 100/-100 but without a large architect they are out of endgame.
I heard a rumour today that on Germany the Chinese have been so successful with their diplomacy that they have united nearly the whole server – only a few german alliances stands against them, FC, Dogma, Troja and LF. Only one WW taken so far.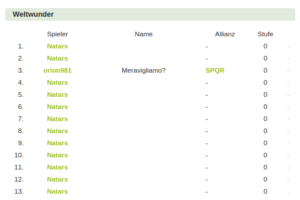 Turkey: Bier and CS have taken WWs, CS have a large architect.. COF and TD, two  different groups of turks,have two WW each. It can be an interesting endgame.  Tügra that have the unique haven't a WW yet.
What happens on France? Dacia and 777 works togehter, they have unique and a large architect. Coq haven't any but PL has two and WTF one architect. More WWs will be taken, and it's not predictable who will win this server.
And last our smallest server, Arabia. A second WW was taken today by the biggest meta . LR. WW has a large architect, they might offer some resistance in the endgame.
Ajaj, I can't finish this today 🙁 To check at the WWs took longer time than I thought. I start working 1h earlier this week so can't afford to stay up any longer.
New try tomorrow!